You may remember the disaster I had with my much loved
suede bag (pepsi can leaked
). My DS2 (who is 10 today - happy birthday!) really liked my bag and cuddled it on long journeys because it was so soft. One of the things he wanted for his birthday was a brown teddy bear and I had just enough left in off cuts from the bag to make this bear.
The cream is also suede (real leather not faux). The bag was made from a long suede skirt I bought second hand for £3 and I used the bag for a couple of years, so getting a bear from it as well is a real plus.
I used a pattern by
Abby Glassenberg
from Craftsy and reduced it to 80% as I didn't have much suede left. I wanted a really soft bear and this pattern is perfect. I made a couple of changes in that I sewed his face before I sewed the back of the head to the front and I stuffed the arms and legs before sewing them into the body. I didn't want too many seams to hand sew as the suede is quite hard to sew.
My son opened his presents at 5:40 (!) this morning and was really pleased with his bear. He is growing up and didn't want many toys - a tablet, a guitar, dvds etc - but he is still little enough to love a teddy.
Linking with Thursday Threads at 627 Handworks and Needle and Thread Thursday at My Quilt Infatuation.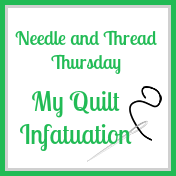 Ali